Howdy Y'all and welcome to our "Cooking on the Wild West Frontier" website!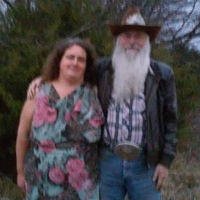 Danny and Emily Rhoades
(Cowboy Dan and Miss Emily)
Owners-Editors
For all foodies and lovers of history, "Cooking on the Wild West Frontier" website,
where I combine tasty Old Chuckwagon and Old West Recipes, that are mighty tasty.
Along with Sensational Tales
of
the Old West, and a fair bit of Quality History.
Cooking on the Wild West Frontier is a small Northeast Texas company that started in April 24, 2018, with strong moral and ethical business values. We take pride in our work and strive to provide our readers, advertisers, and customers with a continually updated site, great products, and superior customer service. If you ever have any questions or comments, please don't hesitate to contact us.\
Before you call, please be aware that we are an online magazine, with West Frontier recipes and articles on various destinations and topics. We do not own, operate, nor have any further information on our destinations, history, or association beyond what you see on our pages.
Cooking on the Wild West Frontier
8800 State Hwy. 276
Point, Texas 75472
Email (feel free to drop us a line.)
Phone: (903)456-0553