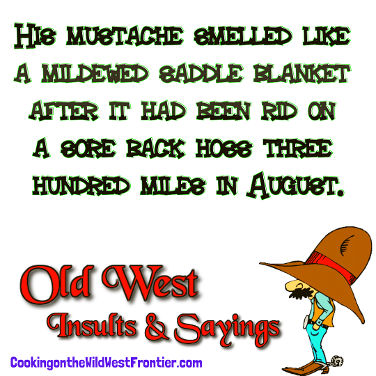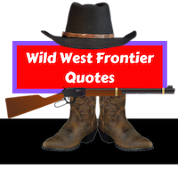 "I think it was the distinguishing trait of Wyatt Earp, the leader of the Earp brothers, that more than any man I have ever known, he was devoid of physical fear. He feared the opinion of no one but himself and his self-respect was his creed."
— W. B. "Bat" Masterson

"I wish I could find words to express the trueness, the bravery, the hardihood, the sense of honor, the loyalty to their trust and to each other of the old trail hands."
— Charles Goodnight

"The past is sufficient to show that bushwhackers have been arrested… charged with bank robbery, and they most all have been mobbed without trials… I have lived as a respectable citizen and obeyed the laws of the United States to the best of my knowledge." — Jesse James in a letter to a frontier editor
"My father had seen in a flash that they were all gunmen, so he told me to stand still, although we were right in a possible line of fire. If near a gun-fight and the weapons are wielded by amateurs, run for your life; if professionals are handling the trigger, stand still — they know where they are shooting."
― William S. Hart

"Wild Bill was a strange character, add to this figure a costume blending the immaculate neatness of the dandy with the extravagant taste and style of a frontiersman, you have Wild Bill, the most famous scout on the Plains." – General George Custer

"I am aware that my name has been connected with all the bank robberies in the country; but positively I had nothing to do with any one of them. I look upon my life since the war as a blank, and will never say anything to make it appear otherwise."
– Cole Younger