A TEXAS BARBECUE involves some kind of meat, or combination of meats, cooked slowly in a pit or on a special grill over mesquite, hickory or oak coals until just the right degree of smoked goodness is reached. Quite often it is an event of some magnitude and requires a number of helpers and advisers. The meat can be brisket, ribs, sausage, chicken, goat, lamb,pork or whatever is available.
The recipe may be used with the barbecue grill when you want to feed a small number of people.
3-4 pounds of spareribs of country ribs

1 teaspoon salt

1 teaspoon of black pepper
Mix salt and pepper and rub on all surfaces of ribs.

Place ribs on a rack in roasting pan.

Add water to pan to almost touch the rack.

Place uncovered pan in a 400 degree oven for 30 minutes.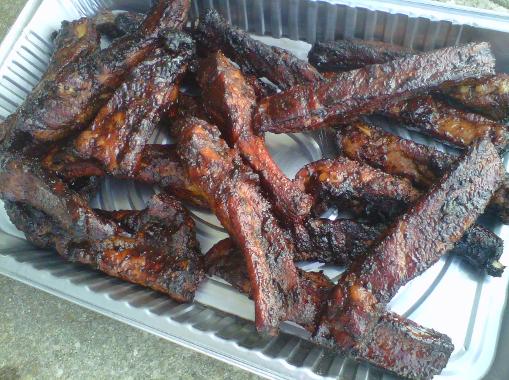 Sauce Ingredients:
1 cup salad oil

1/2 cup vinegar

2 tablespoons Worcestershire sauce

2 clovers garlic

2 tablespoons lemon juice

1/2 cup catsup (optional)

Combine sauce ingredients in a saucepan and simmer briefly.

Place ribs over low coals and cook slowly 1 1/2 hours, basting frequently with sauce

Note:
If you like a tomato -based sauce, add catsup to basting sauce during last 30 minutes of cooking.