2 Tb Canola oil 1 lb Ground Venison

1 Small onion, diced

3/4 – 1 Cup of your favorite BBQ sauce

1 Can Refrigerated, uncooked biscuits

2 C Cheddar cheese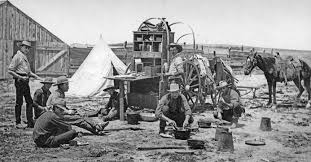 Cowboys gathered around the chuckwagon
Brown ground venison in Canola oil with onion and season to taste.

Stir in BBQ sauce until venison is evenly covered or to taste.

Grease a 9 x 11 baking dish and line bottom of pan with biscuits.

Pour Venison mixture over busciuts.

Sprinkle cheddar cheese on top liberally and place in an oven preheated to 350 degrees.

Bake until cheese is melted and lightly browned on top.