"A decent cowboy does not take what belongs to someone else and if he does he deserves to be strung up and l
eft for the flies and coyotes."
Judge Roy Bean

Easy, hearty, and delicious, this Copycat Harris Ranch Chuck Wagon Stew is pure comfort on a cold winter day!
Course: Main Course
Servings: 6
3 tablespoons extra-virgin olive oil

1 cup small diced sweet onion

1 cup small diced celery

1 cup small diced carrots

salt and pepper

3/4 pound lean ground beef

1 cup small diced potato

3 tablespoons tomato paste

2 1/2 teaspoons beef bouillon

3 teaspoons fish sauce

2 teaspoons Worcestershire sauce

1 can (15 ounce) diced petite tomatoes, undrained

1 carton (32 ounce) low-sodium vegetable broth

1/2 cup frozen baby peas , thawed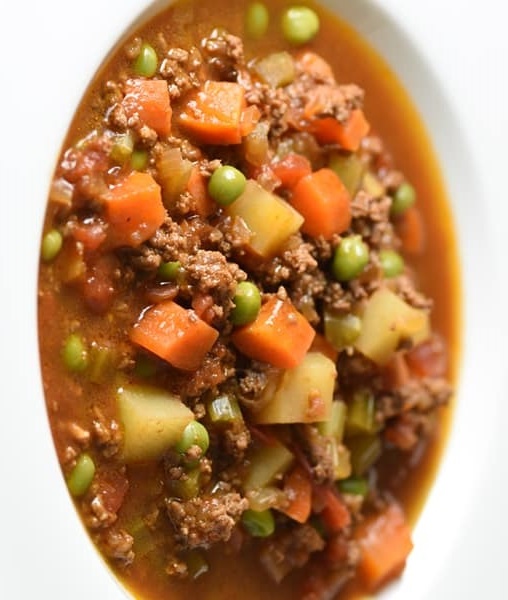 In a large pot, warm olive oil over medium-high heat. Add in the onion, celery, and carrots; saute for 5 minutes until vegetables are tender. Season with a few dashes of salt and pepper.

Add in the ground beef and cook, breaking up into small pieces with a wooden spoon, until no pink remains, about 3 minutes. Season with a few more dashes of salt and pepper. Drain off fat, if necessary.

Add in the potato, tomato paste, beef bullion, fish sauce, Worcestershire sauce, canned tomatoes with their juice, and vegetable broth. Bring to a boil then reduce heat to a gentle simmer and cook until potatoes are tender, but not mushy, about 8-10 minutes. Stir in peas and warm through.

Ladle into bowls and enjoy!