Hoecakes or Johnnycakes Recipe
Hoecakes or Johnnycakes are a true Southern delicacy! This Hoecakes recipe (also known as a fried cornbread) is so easy and perfect for breakfast or anytime of day.
½ cup self-rising white cornmeal

½ cup self-rising flour

2 teaspoons sugar

⅓ cup buttermilk (I used coconut milk)

1 large egg

⅓ cup water, or more as needed

2 tablespoons melted fat or oil, bacon grease, fried chicken grease, butter, or vegetabile oil

Butter or mixed butter and vegetable oil, for frying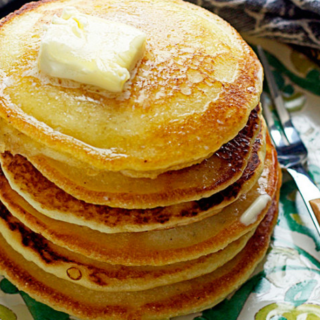 In a bowl, mix together the dry ingredients with a wooden spoon. Add the buttermilk slowly. Mix in the egg, cutting into the yolk with the spoon's edge to help it mix in better. Add the water and fat or oil and stir well. The texture should be like thick soup, so you may need to add more water.

My wife, likes to fry the cornbread cakes in her cast-iron skillet or on a flat iron griddle, but any skillet or grillded will be fine. Heat the skillet or griddle over medium heat and grease it well with the fat of your choice (butter is delicious, but it tends to burn unless you mix it with a little oil).

Once the skillet is hot and the fat is sizzling, drop the batter from a ⅛ cup (2-tablespoon) measure into the skillet, in batches if necessary.

Fry the cakes until the edges are bubbling and the center sare set, then flip with a spatula to fry them on the other side until they're done. Like with pancakes, you can't say how long it will take, but the second side always cooks faster than the first.

Note:
If the cakes seem greasy, drain them on paper towels before serving hot.