Nothing satisfies the soul as much as food prepared on a campfire. And it's easier than you might think!
1 cup milk
1 package active dry yeast
2 Tb sugar
2 eggs, beaten
1 tsp salt
3 1/2-4 cups all purpose flour, sifted
Vegetable oil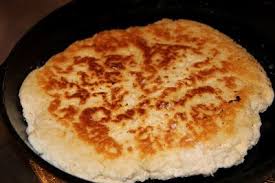 1. Heat the milk over the stove (or in the microwave) until warm but not hot. Pour into a large bowl and add yeast and sugar.

2. Stir in beaten eggs and salt, then slowly mix in flour until mixture forms a smooth, elastic dough. Cover with a towel and allow to rise until double in size (30 minutes to one hour).

3. Lightly flour work surface and divide dough into 12 pieces roughly the size of tennis balls, then flatten into discs. Let dough rise again, about 10 minutes.

4. Heat a cast-iron skillet over medium-high heat. Fry each of the pieces of bread fro 30 to 60 seconds on each side, or until light to medium brown spots appear.

5. Keep covered with a damp cloth, or store in a plastic bag until serving.