Nothing satisfies the soul as much as food prepared on a campfire. And it's easier than you might think!
Easy Texas Chili

Recipe by: Roger K

"This is a simple recipe for Texas chili I learned from my mother. I like my chili with a little fire to it, but you can adjust this recipe to your liking. This is a chili that only gets better the second day so don't worry about using a large pot and having more than your family can eat the first night because you can have it a couple of nights later. ENJOY. I know I do every time I make this chili."
2 pounds lean ground beef
1 large onion, diced
1 large bell pepper, minced
3 (15 ounce) cans pinto beans
2 (28 ounce) cans diced tomatoes
Del Monte Diced Tomatoes With Green Peppers & Onions 14.5 Oz
4 (8 ounce) cans tomato sauce
3 jalapeno peppers, minced (optional)
1/2 cup chili powder
1 teaspoon crushed red pepper flakes
1 teaspoon ground black pepper
1/2 teaspoon salt
1/4 teaspoon garlic powder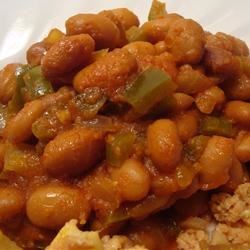 1. Cook and stir the beef, onion, and bell pepper in a large pot over medium heat until the beef is brown and onion and pepper are tender, about 10 minutes. Drain grease from beef.

2. Stir in beans, tomatoes, tomato sauce, jalapenos (if using), chili powder, red pepper flakes, black pepper, salt, and garlic powder. Bring mixture to a slow boil; cover and reduce heat. Simmer chili at least 30 minutes, stirring occasionally so that it does not stick. This chili can be simmered for several hours; the longer you simmer, the more flavor you will get.