This pie was made on the Old West cattle drives, and the cowboys

were always amazed that soda crackers could be such convincing 'apples'!
Cook Time
Prep: 15 min. + cooling
Bake: 25 min.
Pastry for double-crust pie
18 saltines, halved
1-1/2 cups sugar
1-1/4 cups water
2 tablespoons lemon juice
1 teaspoon cream of tartar
1/2 to 1 teaspoon ground cinnamon
1/2 to 1 teaspoon ground nutmeg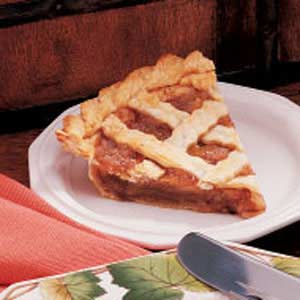 Place bottom pastry in a 9-in. pie plate.
Layer crackers in shell; set aside.

In a small saucepan, combine remaining ingredients; bring to a boil.

Carefully pour over crackers (filling will be very thin).

Cool for 10 minutes.

Cut lattice strips from remaining pastry; place over filling.

Seal and flute edges.
Bake at 400° for 25-20 minutes or until golden brown.

Nutrition Facts
1 slice: 414 calories, 15g fat (6g saturated fat), 10mg cholesterol, 282mg sodium, 69g carbohydrate (39g sugars, 0 fiber), 3g protein.