This is wonderful change-of-pace holiday dessert. It has a scrumptious layer of apples under the pumpkin.

Total Time
Prep: 20 min. Bake: 50 min.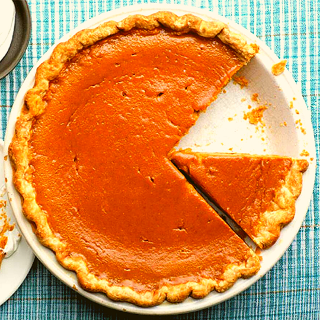 1/3 cup packed brown sugar
1 tablespoon cornstarch
1/2 teaspoon ground cinnamon
1/4 teaspoon salt
1/3 cup water
2 tablespoons butter
3 cups sliced peeled tart apples
Pastry for a single-crust pie (9 inches)
3/4 cup canned pumpkin
3/4 cup evaporated milk
1/3 cup sugar
1 egg
1/2 teaspoon ground cinnamon
1/4 teaspoon salt
Whipped cream, optional
Directions:
In a saucepan, combine the brown sugar, cornstarch, cinnamon and salt. Stir in water until smooth. Add the butter; bring to a boil. Add apples. Cook and stir for 4 minutes.
Place pastry in a 9-in. pie plate. Add apple mixture. In a bowl, whisk the pumpkin, milk, sugar, egg, cinnamon and salt until smooth; pour over apple layer. Flute the edges or decorate with pastry leaves.
Bake at 375° for 50-55 minutes or until a knife inserted in the center comes out clean. If necessary, cover edges with foil during the last 15 minutes of baking time to prevent overbrowning. Cool completely. Garnish with whipped cream if desired. Store in the refrigerator.
Editor's Note
:
Additional pastry will be needed to decorate pie with pastry leaves.
Nutrition Facts
1 piece: 284 calories
12g fat (6g saturated fat)
47mg cholesterol
311mg sodium
41g carbohydrate
26g sugars
1g fiber
4g protein.